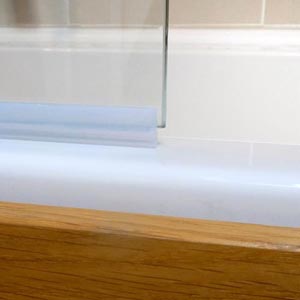 Universal Replacement Screen Seals
ScreenSeal & ScreenSeal MAX are "Universal Replacement Sealing Kits" suitable for solid glass bath screens.

You can use these seals with either Glass Screens or Glass Screens with a metal extrusion at the bottom of the screen.

They even fit on Curved Screens for "P" shaped shower baths.

Manufactured from hard wearing flexible silicone, ScreenSeal & ScreenSeal MAX are easy to install products that can be fitted within minutes to effectively replace the worn sealing strips used on the vast majority of glass bath screens.

See our installation video, it's so unbelievably easy even a DIY novice could handle it.

With over 100,000 in use all over the world, they really work well and now there is no need to renew your old glass baths screen.

Price: £14.99

Price: £14.99

Price: £13.99

Price: £13.99