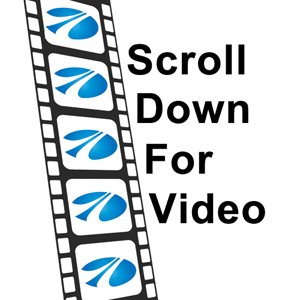 Byretech How To Video's
Here at Byretech we like to help people find solutions to problems they have in their bathrooms.
So we came up with a really cool "How To" section to show you how to fit, replace or enhance stuff in the most important room in the house.
If you have an idea for a video, why not contact us to see if we can make it in HD just for you !
Thanks for clicking on this section and enjoy....
Want to know how to fit one of Byretech's Uber Cool Stainless Steel Shower Curtain Rails ? Look no further ! Just click and see how it's done by Shower Rail Guru Steve the "Top Designer" himself ! From straight to curved and from oval to round, we have a rail to compliment your bathroom right now at Byretech.Take me to the Rails....
Unsure of how to measure up for a new shower curtain ? No problems at all ! Just take a look at this easy to understand "how to" video on measuring up for a replacement curtain. If you already have a correct size curtain, just measure that and it's done. We have many styles and even a range of Heavy Duty curtains that are used in all the top hotels !Take me to the Curtains now......
Easy to fit and coming as a complete kit, the Bath Seal Ultra 10 is guaranteed to keep the mould away for 10 years. To show how easy they are to fit, we have made a step by step video to help you understand the process. The bath seals can be retro fitted and are made of solid plastic, so unlike the hollow under tile seals, they don't trap water in and go black and mouldy.Click here to buy this item....
Replacing a seal on a shower screen is easy ! You need to know three things to be able to get the right Byretech replacement ClipSeal for your over bath screen to prevent water leaks.Tell me more !....
We do try very hard to bring you the best and widest possible selection of quality replacement Shower Heads and Hoses available on-line today. Plus to make it easy for you, it's possible to search by what type of heating system you have just to narrow the choice a little.Show me the range !....
Flexi-Fix has a "Universal Back Plate" that can accommodate whatever holes have been drilled and this then allows you to fit new fittings using the existing holes, without getting out the trusty electric drill. Perfect and really easy ! Flexi-Fix is so flexible that you can in some cases even glue the fixing plate to the wall instead of using the screw holes, it's totally unique and easy to do.Take me to bathroom accessories !...
Bath Screens are an alternative to Shower Curtain Rails and we have a wide range from Coram available online. Made in the UK by Coram, their fixed and folding bath screens are absolutely superb in terms of quality and ease of use.View our Bathscreens !....
At Byretech we are pretty customer driven and we have been asked on a number of occasions for long shower hoses in excess of 2.0m

So we made a "Shower Hose Extender " for this very problem.Take me to this item !....
The German manufactured Acryl-Star Scratch Removal Cream is suitable for removing scratches on baths, sinks, shower trays. Its very easy to use and comes in a squeezable tube with full instructions on it's use.Buy now !....
The Cramer Scratch and Chip Repair Kit is designed for repairing impact damage and flaking on ceramic, enamel, and acrylic surfaces such as baths sinks and hand basins.Show me this item !....
The FUGI fits seamlessly to the wall and floor, slight pressure is applied so the flexible cutting edges fit well into the wall angle. Always use the absolutely smooth edge for spreading. All pastes, silicone, acrylic and polyurethane can be applied as a sealant, and flexible grouts are able to be formed with the FUGI tool. Application of masking tape and cleaning afterwards is no longer necessary !I want to buy this !....
Perfect to touch-up flaws, scratches, defects and minor damage on bathroom / kitchen fixtures and appliances. Can be used on baths, basins, sinks, kitchen appliances, radiators.Tell me more !....
When renovating your bathroom, use the Bellseal to "hold and seal" the bath / tray to the wall, then tile over the "Bell Seal" to provide a watertight seal. The "Bellseal" is self adhesive too, so when you remove the protective film, it sticks firmly to secure the bath or tray to the wall and its's easy to fit too. Bellseal is ideally suited to new installations rather than repairing existing ones, as you need to have the seal under the tiles.View the Bell Seal range !....
If you are in a hard water area or are constantly cleaning your Shower Door / Screen because of streaks on the glass, then this product is definitely for you. It works to keep lime scale away to once you have showered, just wash the glass down with warm clean water from your shower hose and leave to dry. You get a 100% streak free enclosure with very little cleaning required.Show me more cleaning products !....
Manufactured in Shropshire, Coram's extensive range covers, Pivot Doors, Bifold Doors, Sliding Doors and even minimalist Glass Panel systems. They also offer White and Silver shower enclosures with various glass finished too. Designed and built in Britain, Coram Shower Enclosures are the fastest to be delivered and easiest to fit, which is why they are the choice of more professional installers than any other.View Corams Premier range !....
Coram's Optima Quadrant Door is superbly well made and moves with almost no effort in it's robust and well engineered UK made frame. Incredibly simple to fit and super strong when installed, this is in our opinion the best door for the money on the market.Tell me more !....
Manufactured in Shropshire, Coram's extensive range covers Alcove Shower Trays, Oblong Shower Trays, Corner Shower Trays and Quadrant Shower trays all with tough Coratech back filling technology, to keep them super sturdy when you stand in them.Take me to Shower Tays !....