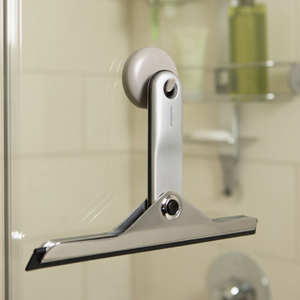 Wipe Away The Water With A Byretech Squeegee !
Squeegee's in the bathroom are used for wiping down the glass to remove any water droplets and are designed to leave the glass streak free after use.
Simplehuman produce the best ergonomic Squeegees around and in their range they have a folding one and a rigid stainless steel one.
Both are easy to use and store plus they come with a 5 year warranty, which shows how much they put their commitment behind their designs
Made from durable materials that won't tarnish or rust, perfect for the bathroom environment.
So, you have a fabulous bathroom and you want a suitably stylish Squeegee ? Its simplehuman time.
Any Questions ? No problem, just call Simon the Squeegee Expert on 01527 522 522