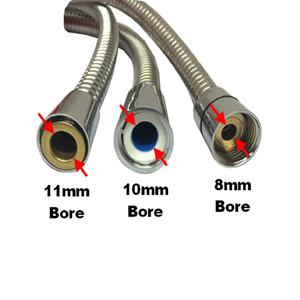 Byretech Shower Hoses
How to Choose the perfect Byretech hose for your bathroom shower.

Bore size 11mm, 10mm or 8mm ? This is the diameter of the inside of the shower hose tube.

Just measure your hose internal diameter and choose the right size to match your existing hose.

On every product we tell you the bore size, so its impossible to get it wrong.

Then choose the length you need and its all done. Remember our hoses will match any shower system currently available in the UK today, so they will fit perfectly.

Could not be simpler, but if you do have any questions, just call our team of experts on Tel 01527 522 522 and we will be able to help you.