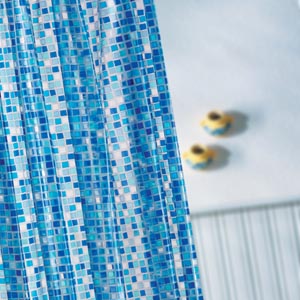 PVC Shower Curtains From Byretech - 180cm x 180cm
Byretech's PVC shower curtains are great quality, easy to hang and won't break the bank.

All are 180cm x 180cm and are made from quality PVC material.

PVC is a fully waterproof material, not as soft as Polyester, but it is hardwearing.

This type of curtain can be hand washed in the bath to clean it.

PVC is the abreviation for "Poly Vinyl Chloride" and is a flexible plastic.