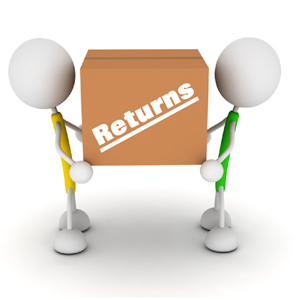 Returns to Byretech - Keeping it simple.
In the unlikely event you need to return a product to us, we want to make this process as simple and as straightforward as possible for you.
Every time you shop with us we want you to have a great experience and that also involves the returns and refunds process.
Returns
Disability
Statutory Cancellation Rights
You have the statutory right to cancel your order for any reason within 14 days beginning with the day you receive the item.
Byretech's voluntary return policy
As well as your statutory cancellation rights described above, you can return all Byretech products to us within 30 days of receipt of the products, if the products are complete and are in an unused and undamaged condition.
Just open and print out the "Returns Download Form" above.
What Byretech pay for
If you return goods to us that are deemed faulty, we will collect them at our cost and refund you your initial postage costs too. We always inspect and test all products that are returned to check for damage and function.
Returning goods
If you return goods that are no longer needed for whatever reason, they must be in saleable condition. Byretech will re-pay your initial postage cost on your order, but returning the item will be at your cost.
Refunds
We process returns on a daily basis and you will be refunded within 48 hours maximum of the item being received back at Byretech, by the same method that you initially used.
Collection by courier
We can arrange collection of larger items by courier and charge you what they charge us to collect. This fee changes from time to time, so please contact us to get the correct charge.
Some of our items are quite large, so Royal Mail and most couriers can't handle such long products. In general low cost couriers tend to break or damage longer items when they are going through their distribution system. That's why we use a dedicated courier that can handle products like this.
Any questions ?
So in summary, sending back products is very easy. If you have any questions, you can call us on 01527 522 522 during normal office hours Monday to Friday or e mail us on info@byretech.com and ask any question you like.
Get in touch

We are here to help and we will pick up the phone within 3 rings during office hours, so you wont be put on hold in a que wasting your time.