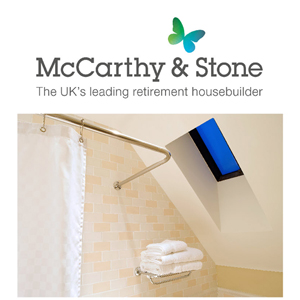 McCarthy & Stone Shower Curtains
Byretech are proud to be suppliers of Shower Curtains and Shower Curtain Rails to the McCarthy & Stone group.

We specifically designed a range of Shower Curtains for them that have been installed in many of their retirement residences throughout the UK.

These items are approved by McCarthy & Stone for use in their builds.

From Plain White to Multi Coloured Polyester Shower Curtains, we can supply them all.

Plus they come with stainless steel eyelets too, so they wont rust.

Want to replace your Shower Curtain ? No problems, just call Simon the "Shower Curtain Guru" on 01527 522 522 and he will be happy to help you.

Alternatively, if you require contract pricing for these items please call 01527 522 522 and ask for our contracts department.